M-Yoga App: Yoga connecting the world
M- Yoga App: A health initiative for the globe!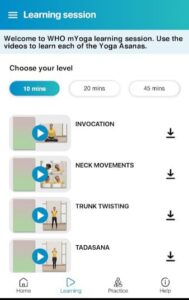 On 21 June, PM Modi revealed the launch of the M-Yoga app on International Yoga Day.
The app is a joint initiative of the Indian government and the World Health Organisation
The app will provide yoga video sessions. It will include basic Yoga postures. Importantly, the videos will be available in different languages.
This way the health will reach all.
A day to promote health with the mantra of Yoga has been a celebration internationally for the past 7 years.
Undoubtedly, India witnessed the origin of Yoga. Further, with the world living in closer proximity, its benefit has spread efficiently.
M-Yoga App: Prime minister addresses the nation
Honorable Prime minister, Narendra Modi addressed the nation on International Yoga Day, 2021.
He spoke about the benefits of Yoga. He also stated about the increasing impact of Yoga amidst the pandemic.
Further, he continued, when the world is unable to meet physically, awareness and significance of Yoga have only increased.
The proposal of celebrating Yoga Day internationally was proposed 7 years ago by the government in the United States.
It was in collaboration with the World Health Organization. Surely, the event has been a success.  Subsequently, M-Yoga App is  to enhance it further.
The world is one, health is for all, is truly a motive to spread yoga across the globe.
Yoga: A Bliss !
Respected Prime Minister asserted the benefits on physical and mental health. He acknowledged how the pandemic has been affecting health in various ways and how yoga has been effective in many ways.
Also, yoga has been proven effective in immunising bodies to fight the virus to an extent.
Indeed, yoga is bliss, ensuring well-being and mindfulness. Also, its a great way to promote Yoga.
Also Read: Novavax to partner with SII(Serum Institute Of India)