If we look at history, we will find that India has a rich sporting culture. India is the fourth most flourishing country at the games. Ever since India has started participating in various sporting events, it has only enhanced. Six medals in London 2012, two in Rio, and now seven in Tokyo 2020. That is the story of India in the Olympics over the past eight years. This is for the first time that India has managed to secure seven medals in varied sporting disciplines. India has sent a contingent of 127 participants to the Tokyo Olympics. Indian athletes participated in 69 cumulative events, the highest ever for the country.
Why India won so few medals in Olympics?
India is a country of a 1.35 billion population, excelling in science, tech, and medicine but always lacks in getting a two-digit number medals in the Olympics.
There are so many reasons behind this. Sports in India have never been promoted as a career option. It is believed that you can only earn if you have a good job in your hand. Parents insist their children to excel in academics and not in sports. Not only Indian parents but government too fails to provide necessary infrastructure and funding in sports. Indian Paralympian shooter Singhraj sells his wife's jewelry to train her for Tokyo. If we had a well-established sporting culture in our country, then a husband would not have to sell his wife's jewelry.
Is corruption responsible for this?
Yes, the Indian story does not end here. Corruption in sports is yet another impediment in Indian sports. The policies made for the encouragement of sports do not reach the target beneficiaries. Superstitious belief regarding the participation of women in sports is also the biggest reason for their very few participants in the sports like weightlifting, boxing, and gymnastics. But thankfully, women like Mirabai Chanu, Lovlina Borgohain, and Praniti Nayak were able to break these stereotypes by giving excellent performances in Tokyo. Also, the badminton queen PV Sindhu became the only second Indian athlete to win consecutive medals at Olympics.
These incredible women have not only broken the stereotypes but also proved those unscientific assumptions wrong which says Indians have inferior athletic DNA.
Moreover, we surely cannot be happy with this much our country needs more role models in the sporting field. As The Javelin Olympic gold medalist, Neeraj Chopra says'
"We in India cannot be content with one gold at the Olympics; we need to continuously perform at global events like diamond leagues."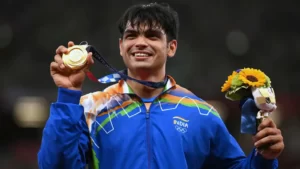 Also read: India's Olympics journey: Earth on heaven, as India gets seven
Measures to ensure more participation of players
Indian parents need to change their outlook towards sports. Rather than just pushing their children to pursue careers in academics, they need to encourage them to play sports as well. Poverty compels the player to leave sports and take up other livelihood means. So the government needs to take measures to establish proper training centers in both rural and urban areas. India needs modern infrastructure to cultivate an ecosystem for Olympic-level sports culture. A corruption check is crucial. More investment in TOPS (Target Olympic podium scheme) and NSFs (National sports federation) must be insured. Government initiatives such as "Khelo India" should be stressed more. Increasing the sports budget can also help a lot. If we can ensure all these, we can have a great sporting culture in India.