Israel's Dilemma to throw or not 1 million COVID vaccines as usage duration soon meets end
BioNTech Pfizer Vaccines: Innoculation or Disposal?
Israel has proved to be a leader in the COVID-vaccination drive with huge numbers of successful inoculations.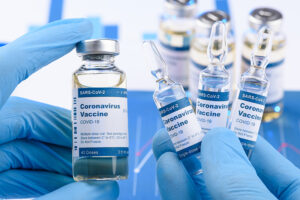 The vaccination drives throughout the world are pacing up to fight the COVID pandemic. 
Israel is one of the countries that pre-ordered vaccines to curb the new mutations of the virus. However sadly, the vaccines will expire by July end. Some reports state that the vaccines will expire in June only. 
 This has caused the need to dispose of them. 
In total, there are 1.4 million vaccines. These are Pfizer- BioNTech vaccines.
  Estimations state that  3,00,000 teenagers will be vaccinated. Hence, utilising 6,00,000 vaccines. It is surely difficult to vaccinate millions of people in a month.  Subsequently, approximately, 8,00,000 vaccines might become useless.
Although, the country is still searching for potential buyers to ensure zero or less wastage of vaccines. Moreover, the country is ready to trade free vaccines with some other benefits from the importing countries. 
As the vaccines will expire soon. Even, Palestine has disapproved of the vaccines. 
According to Reuters, the Palestinian government was informed that the vaccines will expire by July end. Contrary to the information, the vaccines will expire in June. 
Probably, similar hesitancy will stop other countries from purchasing the vaccines. 
The Health Ministry is encouraging more and more teenagers to escalate vaccination drive before expiration.
Undoubtedly, rigorous efforts have been taken by the government of Israel to ensure less wastage. 
Concerns! 
Despite all the efforts, there are chances of mass disposal of vaccines. Vaccine shortage is a concern in most developing and under-developing nations. Furthermore, the only Anti-COVID weapon is the vaccine. Unfortunately, the unclear information on the expiry month for vaccines is another issue. 
At such a crucial time, this disposal can hamper the Anti-COVID fight. Still, the disposal of vaccines nearing expiration is essential..
So, it is essential to utilise as many as possible. 
Since the disposal will hamper the vaccination drive. The protocols to maintain COVID- appropriate behavior shall remain.
Also Read: Pfizer to send $70 million drugs to India for COVID-19 treatment